It is in Ehrenberg, near Reutte, Tirol, Austria. What you get there is the authentic life of the Medieval times.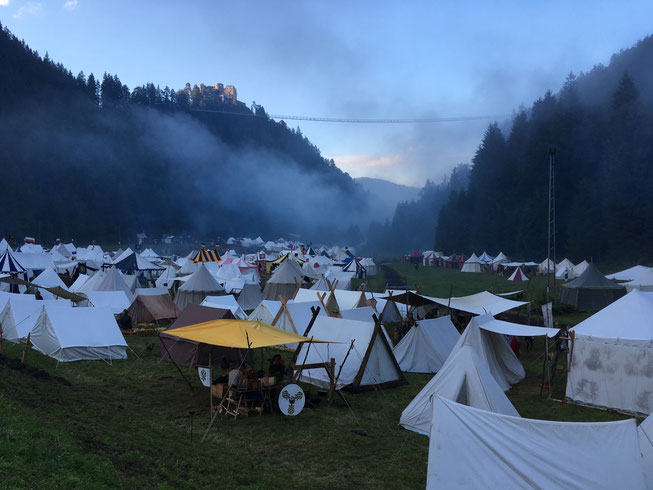 There is a market, where you find everything to be dressed, just as people were dressed these days: Linen trousers, shirts, dresses, leather bags, shoes and drinking vessels on belts, made out of horns. You might be surprised about how much product creation was possible those days. Well, the more fancy cloths had clearly been only worn by the higher ranks in society.
The same is the case for food: You find many different types of meals, but the ones with meat were also only for the privileged. There is a pig, turning over fire, full grain bread and sweets. Have a taste of the honey wine, which really is nice, especially in a hot version. Be careful though, as that stuff makes you drunk quickly! No doubt, you also find beer and wine, which was already produced these days. They are served in clay cups.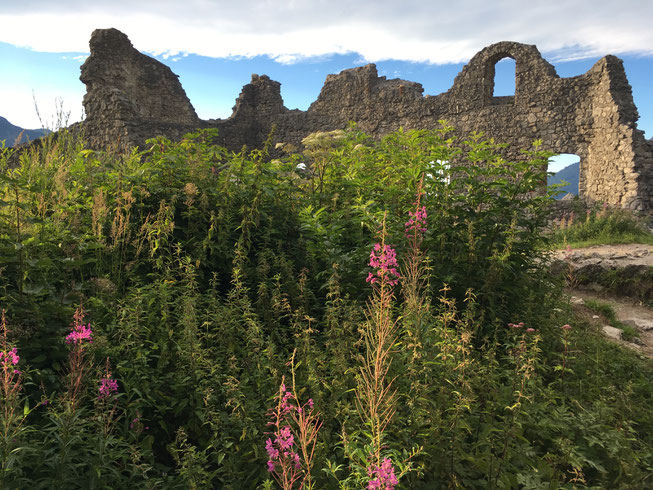 Walking along, the smell of food starts to mingle with the one of the huge camp, where fire is burning in front of the original linen tents. People sit around, offer arrow shooting, lie in there medieval beds, with different kinds of animal furs on them. In the camp you really feel like having gone back to the time some hundred years ago. You walk along a soft grassy floor, or through some mud, in case the rain god had interfered with the organisation. You can be part of the "camp life", if you are fully equipped with medieval style. This way you pay no entrance and are entitled to stay for the whole time of the event.
Now you are dressed like anyone else these days, have tasted and smelled the past, so it's time to listen to some medieval sounds. Little street bands can be found just between the market stands and spread an acoustic authentic feeling with their bagpipes and other old music instruments. Additionally you may follow concerts either inside old fortress walls, or in front of an open air stage. The music is mainly very alacritous and a pleasure for any generation. It made me dance for hours one evening and makes me swing my hips somehow every time I hear it.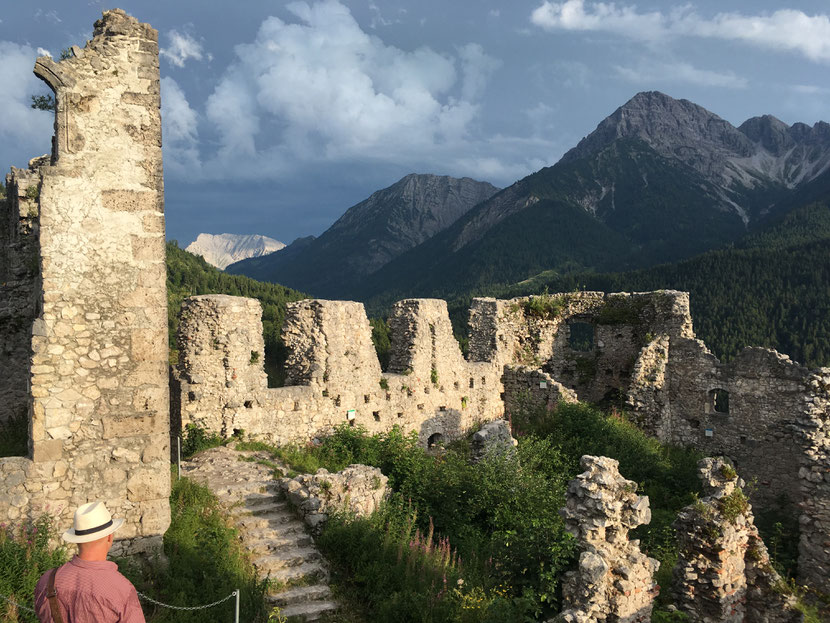 Almost all of your senses have time travelled by now: Your smell, taste, listening, your tactile senses, by feeling the fabrics, furs and floor with your feed. Your eyes have already been spoiled too with all the goods presented and beautiful costumes walking by. But there is so much more for your eyes and medieval experience: Shows.
Get a schedule in the morning, when you arrive, so you make it to the shows, which interest you.
The huge parade is definitely worth watching. You get an impression about many different styles and costumes of these days.
There is one knights fight with the knights on horses, which is really well organized. The Lordship is watching from a tribune, the presenter speaks clearly and explains well who is fighting against whom. You also find a warfield with many soldiers involved, which makes it easy for you to imagine how such power changes once took place.
These fights have a real historic background and tell about events, which have either happened on that very place, or nerby in the area.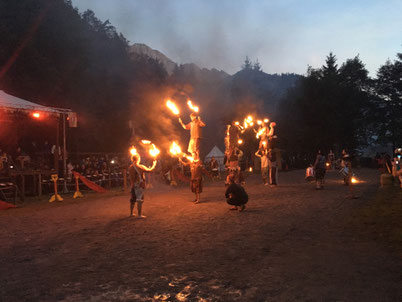 Fireshows are very popular and there are fire eaters and people jumping through burning fire rings. These are more spectacular after sunset. The other shows can be enjoyed during darkness too.
The night is also favoured for fireworks, which are blown in the air in one of the evenings of the festial weekend.
Don't miss the hanging bridge, which is just above the area, the whole event is set. It gives you a great overview about the beautiful landscape and historic place and leads you from ruins of one fortress to the ones of another one.
It is an event for every generation and after 2 or 3 days you feel like having had a long holiday: Relaxed, because you will have fully emerged into a very different world.
Watch a little video about the event here:
Find more information about the location (Western Austria), entrance, ..., here: https://www.ritterturniere.com/en/